This Topic covers all progress from September 20, 2013 to 1 October, 2016

(scroll down or press Page Down to review)
All later news is here http://www.seafordcc.org/forum/viewforum.php?f=27
You may also notice that some important milestones have been moved from this Topic to their own (e.g. Frankston's Think Big, the first tree planting event and the Group's public documents).



Now is *really* your opportunity to get involved.






Links:




The Group changed its name to Down's Estate Community Project Inc. on 1 October 2016.
The Down's Estate Community Working Group was formed on 28th January, 2014 and is comprised of Community Group representatives, collaborating to develop a visionary proposal for the land previously owned by Harry Down.

If you'd like to join or express support, please email the SCC (see below) or

downsestate@gmail.com.



Like us on Facebook
Down's Estate is located in Old Wells Rd, Seaford, roughly opposite the Frankston City Motorcycle Park
It is adjacent to, but not part of the Seaford Wetlands
It is the Estate of the late Mr Harry Down who bred horses, made internationally-renowned saddles and whips and ran a few cattle on his property
The land is now owned by Frankston City Council
An information session was held in July, 2012, during which options for its future use were discussed
We are concerned about its future.

The Friends of the Edithvale-Seaford Wetlands describe it as:
"... parcel of land occupying 20.8 ha, 'Down's Estate', which adjoins the north-eastern corner of Seaford Swamp. This parcel of land is currently situated outside the Ramsar boundary."
http://www.edithvale-seaford-wetlands.org/wetlands-information.html

The first mention of Down's Estate in their newsletter - http://www.edithvale-seaford-wetlands.org/uploads/4/2/1/7/4217734/warbler_july12.pdf
Follow-ups ("we're waiting") - http://www.edithvale-seaford-wetlands.org/newsletters.html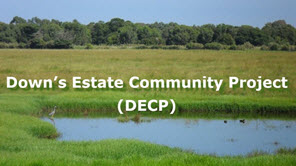 Down's Estate Community Project

Like us on Facebook
downsestate@gmail.com