Seaford Beach Cabin Park - 254-258 Nepean Hwy Seaford

UPDATE, June, 2016:
The 10-year lease has now been signed by FCC and is effective at last.
This gives residents - and the owner - the remaining 9 years of certain tenure.
Yes, we also wonder what happens at the end of the 10 years - how do a further 20 years sound?

Thanks go to FCC for reversing their long-held intentions to close the Park.
That original approach was presumably in response to:

calls from local residents and Police that the Park was a problem area - the current owner saw an end to those problems
a perceived need for more public parking in the area
Thanks also to:
the owner
the residents for their tenacity and patience
the Joint Working Group (now known as SHAC) for holding the public meeting to allow the residents and owner to outline their views
(Click on photo to view & close)







Petition

to save the Seaford Beach Cabin Park

http://www.gopetition.com/petitions/save-the-seaford-cabin-park.html
Facebook

https://www.facebook.com/savetheseafordcabinpark

The SCC is participating in a Joint Working Group started by the St Anne's Church (Seaford) Social Justice Group to retain the Park.
Here is our position Paper

Position Paper - SBCP & Homelessness in Frankston - Joint Working Group on Homelessness

====================

Media coverage:


April 6, 2015

Cabin park deal 'close' despite reservations
http://baysidenews.com.au/2015/04/06/cabin-park-deal-close-despite-reservations/


February 2, 2015

Cabin Park Upgrades on the Table
http://baysidenews.com.au/2015/02/02/cabin-park-upgrades-on-the-table/
Google Drive version

Cabin Park Upgrades on the Table
January 12, 2015

Compromise on Cabin Park Lease
http://baysidenews.com.au/2015/01/12/compromise-on-cabin-park-lease/
Google Drive version

Compromise on Cabin Park Lease
January 5, 2015

Frankston Council drops plans to take over Seaford Beach Cabin Park
http://www.heraldsun.com.au/leader/bayside/frankston-council-drops-plans-to-take-over-seaford-beach-cabin-park/story-fngnvli9-1227172767296?nk=440ed3865a2063e429df817944af2727
Google Drive version

Frankston Council drops plans to take over Seaford Beach Cabin Park
December 24, 2014

Council offers new lease to Seaford Beach Cabin Park owner
FCC website - http://www.frankston.vic.gov.au/Your_Council/Media_and_Publications/Latest_News/Council_offers_new_lease_to_Seaford_Beach_Cabin_Park_owner
Google Drive version

Council offers new lease to Seaford Beach Cabin Park owner
December 22, 2014

No End in Sight - http://issuu.com/frankstontimes/docs/ft_current/15
Google Drive version

No End in Sight
December 3, 2014

Eviction fear looms again at cabin park
http://baysidenews.com.au/2014/12/03/eviction-fear-looms-again-at-cabin-park/
Google Drive version

Eviction fear looms again at cabin park
November 21, 2014

Seaford Beach Cabin Park Residents to Protest in Bid to Save Homes
http://www.heraldsun.com.au/leader/bayside/seaford-beach-cabin-park-residents-to-protest-in-bid-to-save-homes/story-fngnvli9-1227129730471?nk=176375dbd55eaa8e23489f1b28a5735a/
Google Drive version

Seaford Beach Cabin Park Residents to Protest in Bid to Save Homes
September 23, 2014

Community groups urge Frankston Council not to force Seaford Beach Cabin Park residents out of their homes
http://www.heraldsun.com.au/leader/bayside/community-groups-urge-frankston-council-not-to-force-seaford-beach-cabin-park-residents-out-of-their-homes/story-fngnvli9-1227066246899
Google Drive version

Community groups urge Frankston Council not to force Seaford Beach Cabin Park residents out of their homes
June 23, 2014

Homeless Need a Safe Haven
http://baysidenews.com.au/2014/06/23/homeless-need-a-safe-haven/
Google Drive version

Homeless Need a Safe Haven
May 19, 2014

Residents of Seaford Beach Cabin Park no longer face imminent eviction but will still be forced to find new accommodation
http://www.heraldsun.com.au/leader/bayside/residents-of-seaford-beach-cabin-park-no-longer-face-imminent-eviction-but-will-still-be-forced-to-find-new-accommodation/story-fngnvli9-1226922728949
Google Drive version

Residents of Seaford Beach Cabin Park no longer face imminent eviction
May 5, 2014

Seaford Beach Cabin Park residents fear losing their homes as Frankston Council plans to build a carpark
http://www.heraldsun.com.au/leader/bayside/seaford-beach-cabin-park-residents-fear-losing-their-homes-as-frankston-council-plans-to-build-a-carpark/story-fngnvli9-1226903434295
Google Drive version

Seaford Beach Cabin Park residents fear losing their homes - for a carpark
February, 11, 2013

Apartments for Seaford cabin park rejected
http://www.frankstonweekly.com.au/story/1288989/apartments-for-seaford-cabin-park-rejected/?src=rss
Google Drive version

Apartments for Seaford cabin park rejected
Background:
December 2012

Seaford development shocks residents
http://mayday-senews.weebly.com/seaford-cabin-park.html
Google Drive version

Seaford development shocks residents




_____________________________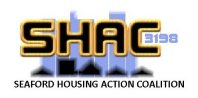 Facebook/Forum/News: http://www.seafordcc.org/SHAC
Email - SHAC3198@gmail.com

Solidarity with homeless people and those at risk of homelessness.



Coalition Members

:

St. Anne's Parish Social Justice Group
Seaford Community Committee
St Vincent de Paul Mt Eliza Conference Social Justice Group
Residents of the Seaford Beach Cabin Park