Come to the Down's Estate Community Project


on Sunday September 10 and/or 24 2017


10am—1pm, Old Wells Rd, Seaford
And help get our Community Veggie Growing Going
You can also RSVP when you arrive.


Photos

: https://www.facebook.com/DownsEstateCommunityProject/posts/1550008598376019

We have now the go-ahead from Council to start our "no dig" beds at Down's Estate.
If you would like to learn how and contribute at the same time, please come along.


No Dig Garden Workshop
Building Garden Beds
Planting of first seeds and seedlings
Tree planting
BYO lunch
Tools and gloves provided or BYO
RSVP to downsestate@gmail.com
Queries to 0437 025 981
Please note there is no toilet on the site
BYO water
(Click on image to view & close)



Down's Estate Community Project Inc. (DECP)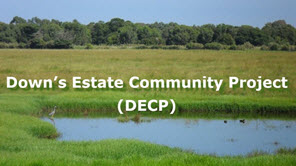 Facebook/Forum/News: http://www.seafordcc.org/DECP
Email - downsestate@gmail.com